NPS-License Disk Scanner
Jump to navigation
Jump to search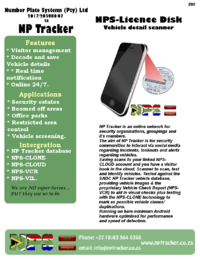 Our flagship Android vehicle licence disk scanner application capable of scanning and decoding South African Motor vehicle license disk barcodes, testing vehicles against the national Suspect vehicle database of NP Tracker.
Scan the Motor vehicle license disk barcode with the scanner, the app will decode and show the MVDP for the operator. The vehicle record will be saved in the NPS-CLOUD visitor record page if the scanner is linked to an account.
Capabilities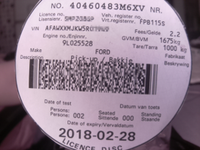 The Android app to scan and decode:
South African Vehicle Licence disks.
NPS Licence Disk scanner uses the camera on your phone to read barcode information and look up the NP Tracker suspect vehicle database and/or private hotlists uploaded to http://www.npscloud.co.za. Use any number of scanners linked to your account - you only pay for the package you selected NOT for each scanner.
Cost & Pricing
Our system is designed to keep our clients running cost to a bare minimum. We even provide each user with free credits per month.
You DO NOT pay per device, in fact, you can have an unlimited number of linked scanners linked to your NPS-CLOUD account at no additional fee.
Our pricing model is broken down into two parts (1) Pay as you go AND (2) Data storage
Pay as you go
You select a package that suits your needs it may range from 300 to 1 million credits loaded to your account per month.
With these credits it enables your linked scanners to scan and show the content to the operator.
We have designed a package selector to aid you in determining the correct package to select based on the estimated number of scans and type of scans you will be doing please see our online package selector
Data storage
To save on cost you can opt not to save the scanned records in your NPS-CLOUD account alternatively we have the following options available:
14 days - R49
30 days - R149
90 days - R269
Please see the subscription section on your NPS-CLOUD Account -> Settings page for a complete list of functions enabled through the above subscriptions.
Usage
Scanning a barcode is dependant on the phone hardware including the camera we found good results from if:
cameras with higher than 5megapixels
good lighting when scanning the barcode (ensure NO flash reflections are on the barcode when using your flash)
having the complete barcode in the viewfinder
image does not blur (keep your hand steady).
Link scanner to your NPS-CLOUD account
To link your scanner to your NPS-CLOUD account:
Scanning
When scanning the barcode ensure that the barcode is completely in the viewfinder.
Logging
Give each scanner a unique device identifier helps when having more than one device linked
App
History
Available if your device is linked to an active NPS-CLOUD account.
It showns a list of vehicles scanned and enables the option to send the history file to other users on Whatsapp, Telegram etc via the share with option in Android.
Menu
Settings
Scanner settings
Scanner identifier
Give the scanner a unique name to identify it on the NPS-CLOUD reports.
Scanner access token
This is your NPS-CLOUD account access token you can either scan the barcode available on your NPS-CLOUD dashboard OR enter the code manually available under the NPS-API menu in you NPS-CLOUD account.
When scanning for barcodes, decode...
Data Barcodes
RSA License Disks
Enable scanning and decoding the PDF417 barcode on Motor vehicle licence disks.
The app will scan decode and display the MVDP to the operator when the operator selects the more info button either after a scan or one of the vehicles in his history tab.
When a barcode is found
Vibrate
Will vibrate (if device supports it) when a barcode is successfully scanned and decoded to give the operator an tactile feedback.
Remember duplicates
General settings
Use front light
Switch on the devices flash when scanning the barcode - used in poor lighting conditions.
When using the flash ensure that the flash light do not reflect in the barcode this will negatively influence detection and decoding of a barcode.
Use auto focus
Use the phones build in cameras auto focus function when scanning barcodes.
Bulk scan mode
No automatic rotation
Do not rotate the screen when scanning.
Device Bug Workarounds
No continuous focus
No exposure
No metering
No barcode scene mode
Help
Shown the apps build in help screen.
Back
Exit the app and go to your Android screen.
NOTE That this only minimise the app it will still run in the background.