DLDP
Jump to navigation
Jump to search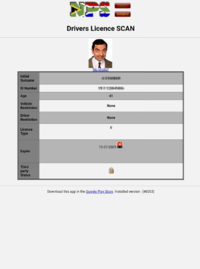 RSA Drivers License Decoding Page will assist users in understanding the format and content of the report provided by NPS.
Supported apps
Decoded info
The South African Drivers License PDF-417 barcode are decoded and if Consent is given info are saved on the users NPS-CLOUD account.
Please ensure that your scanner app is linked to your NPS-CLOUD account.
Driver Photo
The driver's passport type photo that is encrypted in the barcode.
Initials & Surname
Initial and surname of the driver.
ID Number
Identity number of the driver.
Age
The age of the driver.
Vehicle Restriction
List any restrictions on vehicle type the driver may have.
Driver Restriction
List any driving restrictions the driver may have.
License Type
List the vehicle types the driver may drive.
List the PrDP (Professional Driving Permit) type and expiry if the driver has one.
Expire
Show the expiry date of the driver's license card.
Third party status
Show third party info - if enabled on your account