NP Tracker on Facebook
Jump to navigation
Jump to search
We created two apps on facebook.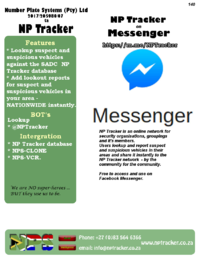 NPTracker Lookup
Enquire plates
Find the bot NPTracker on FB Messenger
Tap to open
Send the vehicle registration to check as text to the bot.
Results
The bot will test the vehicle registration number against:
The national suspect and suspicious NP Tracker database
The NPS-VCR vehicle database (providing make, model and colour info)
and show a Vehicle Lookout report if the plate is registered in the system, alternatively, if more than 3 users inquired the plate previously you will be notified.
NPTracker APP
We are currently in development contact us for a progress report on the status