FreeMIRROR user manual
Jump to navigation
Jump to search
Check out our user manual for the freemirror website.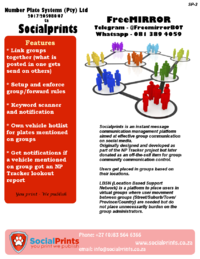 Telegram
Telegram is a free cloud-based instant messaging service. Telegram clients exist for both mobile (Android, iOS, Windows Phone, Ubuntu Touch) and desktop systems (Windows, macOS, Linux). Users can send messages and exchange photos, videos, stickers and files of any type.
Adding BOT to group
Initialize a conversation with the Telegram bot search for @freeMIRRORBOT (in Telegram) then click on START.
Android
iOS
Some help needed from an iOS user!
Authorizing BOT on the group
The BOT will confirm that the group have been added to the control panel. To control bot goto Telegram -> Communicator on your freemirror account.
Setup group interlinking
Setup group keyword scanning
Whatsapp
All Whatsapp messages recieved on the device will be stored on your freeMIRROR account only messages containing vehicle registration numbers will be stored as lookout reports on NP Tracker.
Install app on Android device
Linking app to your account
Facebook
Linking app to your account
Twitter
Linking app to your account