@SpeedCopBOT
Jump to navigation
Jump to search
Our SpeedCop lookup BOT on telegram available to the crime-fighting community in South Africa and bordering countries to check Sothe African drivers license validity and notices provided to road users.

To assist our development team to provide state-of-the-art software to communities, dominantly free please help them by donating to the project to keep it alive and funded.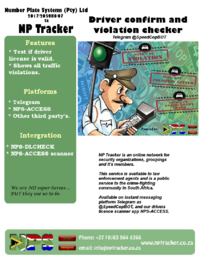 Telegram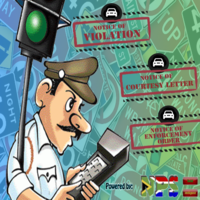 Inquiries
Find the bot @SpeedCopBOT (Goto Contacts and search for it)
Tap to open (Click on START if required to initialize comms with BOT)
Usage:

Test if driver is qualified to drive send (/check).
Get the list of violations against a driver send (/violations).
Test a vehicle against the NP Tracker suspect vehicle database send (/lookup ABC123GP).
Results
Show if driver's license still qualify.
Show notices for the driver.
The bot will test the vehicle registration number against:

The national suspect and suspicious NP Tracker database
The NPS-VCR vehicle database (providing make, model and colour info)
Linked NPS-CLOUD accounts private hotlists.
and show a Vehicle Lookout report if the plate is registered in the system, alternatively, if more than 3 users inquired about the plate previously you will be notified.
Commands
/check
Requires: RSA ID number
Test drivers RSA identity number to see if driver license is qualified to drive.
/review
Manual request to verify data on an NPS-VCR report if suspecting that the info is wrong.
/help
Bot will display commands available through the bot for advanced help related to a command send /help command
/ping
This is a communication test command the bot will reply with a pong if it receives this command.
/removeplate
Usage /removeplate ABC123GP - it will remove lookout report for the specific vehicle registration number IF the report was send on the specific group the command was sent on OR the user that send the lookout report send the command to the bot.
/lookup
To inquire an SADC vehicle registration number send /lookup ABC123GP
/testvin
Inquire vehicle VIN number, decode and show registration, make, model, colour and image if available.
/violations
Requires: RSA ID number & Driver licence card number
Show a list of violations against the driver.