@GroupJoinerBOT
Jump to navigation
Jump to search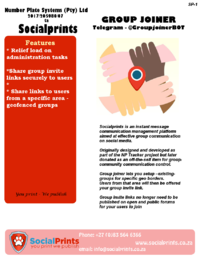 Secure group invite links based on users location per organisation.
Bot used to send users group and invite links, groups allocated to the area based on the location the user provide for a specific freemirror group/account manager.
This is linked to a user/organization Freemirror web account key or organisation ID.
Account linking
Organisation ID
Each account on freemirror gets allocated a unique account ID this ID is called the 'organisation ID number.
The organisation ID can be found in your www.freemirror.co.za control page Telegram -> Verify/Join BOT send your users this ID number.
Organisation @groupJoinerBOT invite link
An BOT invite link to send to your users can be found in your www.freemirror.co.za control page Telegram -> Verify/Join BOT tab Info.
Telegram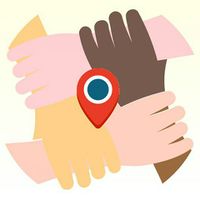 You will need a valid organisation invite link 'OR organisation ID to use the @GroupJoinerBOT on telegram.
Howto
OR
Follow the Organisation BOT invite link provided by your group administrators.
Tap to open (Click on START if required to initialize comms with BOT)

Send your device location by clicking on the [SHARE MY LOCATION] button.
If no Organisation ID is linked to a user he/she can send the organisation ID directly to the BOT, this will update the users default selected organisation and all sequential locations send to the BOT will be checked against the new organisation group lists.
Commands
/help
Bot will display commands available through the bot for advanced help related to a command send /help command
/ping
This is a communication test command the bot will reply with a pong if it recieves this command.
Generates a message the user can share (Copy / Paste) to other users with a embedded organisation @GroupJoinerBOT invite link.