NP Tracker on Whatsapp
Jump to navigation
Jump to search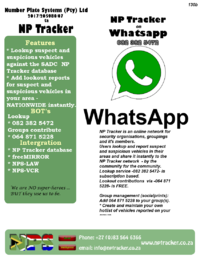 This bot utilises the Whatsapp Business API and needs support and donations to keep it online please contact us at [email protected] if you can sponsor this bot to be used by the community. It is also our first subscription-based bot due to the high operating cost associated with WhatsApp at R49pm we do however provide the first 5 lookups done by users for free to test the system.
WhatsApp
Enquire plates
Find the bot 082 382 5472 (Goto Contacts and add the number as a contact)
Send the vehicle registration to check as a plain text message to the bot.
Send a photo of the vehicles Licence disk barcode and it will decode and test the vehicle's registration.
Results
The bot will test the vehicle registration number against:
The national suspect and suspicious NP Tracker database
and show a Vehicle Lookout report if the plate is registered in the system.
Commands
ping
This is a communication test command the bot will reply with a pong if it recieves this command.
help
Bot will display commands available through the bot.