NP Tracker on Whatsapp
Jump to navigation
Jump to search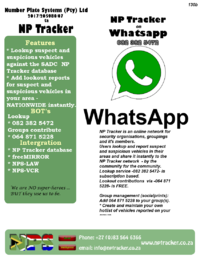 Please note that this BOT is in beta mode and may be offline, we try and ensure the bot is live 24/7 but need support and donations to keep it online please contact us at [email protected] if you can sponsor this bot to be used by the community, cost is R700pm and will include your company logo in the profile pic plus give credit to your company on the vehicle lookout report.
WhatsApp
Enquire plates
Find the bot 072 363 1390 (Goto Contacts and add the number as a contact)
Send the vehicle registration to check as a plain text message to the bot.
Results
The bot will test the vehicle registration number against:
The national suspect and suspicious NP Tracker database
and show a Vehicle Lookout report if the plate is registered in the system.
Commands
/ping
This is a communication test command the bot will reply with a pong if it recieves this command.
/help
Bot will display commands available through the bot.