NP Tracker on Wechat
Jump to navigation
Jump to search
Our NP Tracker lookup BOT on Wechat available free of charge to the crime-fighting community in South Africa and bordering countries.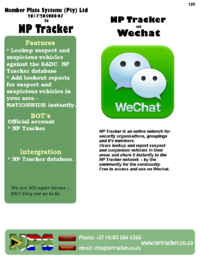 Wechat
Enquire plates
Find the official account NP Tracker (Goto Contacts and search for it)
Tap to open
Send the vehicle registration to check as a text message.
Results
The bot will test the vehicle registration number against:
The national suspect and suspicious NP Tracker database
and show a Vehicle Lookout report if the plate is registered in the system.
Commands
help
Show the command help menu
ping
This is a communication test command the bot will reply with a pong if it recieves this command.
testplate
To inquire an SADC vehicle registration number send testplate ABC123GP