@TrafficAlertBOT
Jump to navigation
Jump to search
Telegram
National Traffic notifications/alert group poster
Find the bot @TrafficAlertBOT (Goto Contacts and search for it)
Tap to open (Click on START if required to initialize comms with BOT)
Place the BOT on a Telegram group you need the notifications to be sent on.
Send command /setup on the group the BOT will guide you to set-up the notification system on that group.
Report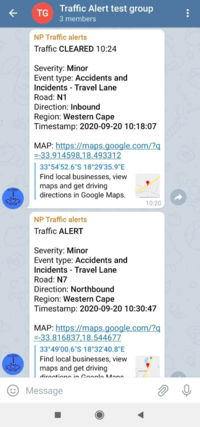 The bot will post national traffic notifications to the group.
Commands
/help
Bot will display commands available through the bot for advanced help related to a command send /help command
/ping
This is a communication test command the bot will reply with a pong if it recieves this command.
/setup
The bot will guide you to set-up traffic notifications on a group.
/delete
Shows a list of notification rules for the group the bot are on, a user can delete each rule induvidually through this command.