@HotlistBOT
Jump to navigation
Jump to search
Lookup ONLY private vehicle hotlists from linked NPS-CLOUD account(s)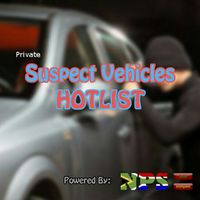 Authorize user
Authorize the user to enable him/her to inquire your private hotlist
Login to your www.NPSCloud.co.za account
Goto Hotlist -> User management (On menu)
Copy the Hotlist authorize key from the textbox and send to the user you need to authorize
Ask the user to send the authorizing key to the @HotlistBOT
Goto your NPSCloud account. Hotlist -> User management (On menu)
Select the user from the table and click on Edit.
Change the users Status to Approve.
The user will receive a message from the BOT advising him of the status change.
Telegram
Enquire plates
Find the bot @HotlistBOT (Goto Contacts and search for it)
Tap to open (Click on START if required to initialize comms with BOT)
Send the vehicle registration to check against the linked private hotlist and test it.
Results
The bot will test the vehicle registration number ONLY against the authorized private hotlist and show a Vehicle Lookout report if the plate is registered in the system.
Commands
/ping - BOT will reply with PONG if online.